A Highland Hideaway with Spirit!
Food, drink and accommodation in an historic and allegedly haunted 16th Century Hunting Lodge and Coaching Inn on Scotland's stunningly beautiful and romantic Isle of Skye.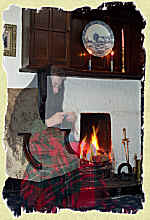 Start the evening by enjoying an aperitif besides the roaring fire in the snug lounge area. Browse the evening's varied menu, which will consist of the very freshest of seasonal produce.
Choose from mouth-watering Scottish beefsteaks, lightly smoked haddock, venison casseroles or perhaps juicy langoustines. Only the finest local ingredients are used.
The hotel owners have a passion and an enthusiasm for good food and know only how to produce superb meals.
An unhurried and hearty full Scottish breakfast in the morning will be something to savour. In the colder months you may care to breakfast by the peat fire.
The restaurant is open all year and non-residents are welcome. The Lodge's opening times are as follows:-
Opening Hours
Summer
Winter*
The Bar (weekdays):
12:30pm – 01:00am
12:30pm – 01:00am
(weekends – Saturdays):
(Sundays):
12:30pm – 12:30am
12:30 – 11:00
12:30pm – 12:30am
12:30 – 11:00
Bar Food Menu
12:30 – 14:00 &
18:00 – 21:00
12:30 – 14:00
& 18:00 – 20:30
Restaurant / Dinner Menu:
18:00 – 20:00
18:00 – 20:00
Reservations are highly recommended for the Restaurant
Exact times may vary according to season
(* the Bar especially may close earlier out of season)