A Highland Hideaway with Spirit!
Food, drink and accommodation in an historic and allegedly haunted 16th Century Hunting Lodge and Coaching Inn on Scotland's stunningly beautiful and romantic Isle of Skye.

(Welcome in Gaelic) Try something just that little bit different … … holiday in a 16th century hunting lodge with a reputation for delicious food, delectable drinks, charming rooms, and allegedly a few guests, or rather phantoms of yore, whose ghostly presence makes the Lodge a most exceptional destination.
Located adjacent to Loch Greshornish, on Scotland's Isle of Skye, the Lodge was originally built by the notable Macleods of Greshornish. Since 1543 this solid stone building has proved to be a safe haven from a hectic world.
  Although one of the oldest coaching inns on the island, this secluded hotel has managed to retain it's original classic appearance but still provide cosy bed and breakfast (B&B) accommodation.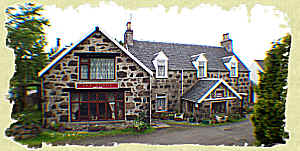 A romantic refuge steeped in history where you can enjoy the very best food, friendly atmosphere and be ideally placed to visit all of the tourist attractions of northern Skye. The Lodge at Edinbane – a Highland Hideaway with spirit! Food, drink and bed and breakfast (B&B) accommodation in the Highlands of Scotland on the beautiful Isle of Skye. Click to enlarge …It is little wonder that many guests are so captivated by this delightful hotel that they return again and again.
And don't worry about the restless spirits … … ghosts treated with respect actually protect the household from misfortune. The Lodge's spectres are therefore treated with the utmost respect!
The Lodge at Edinbane is open all year.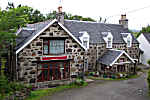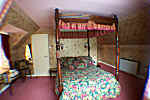 Contact: Peter & Hazel, The Lodge, Edinbane, Isle of Skye, Scotland IV51 9PW
Tel: +44 ( 0 )1470 – 582217 / Email: [email protected]